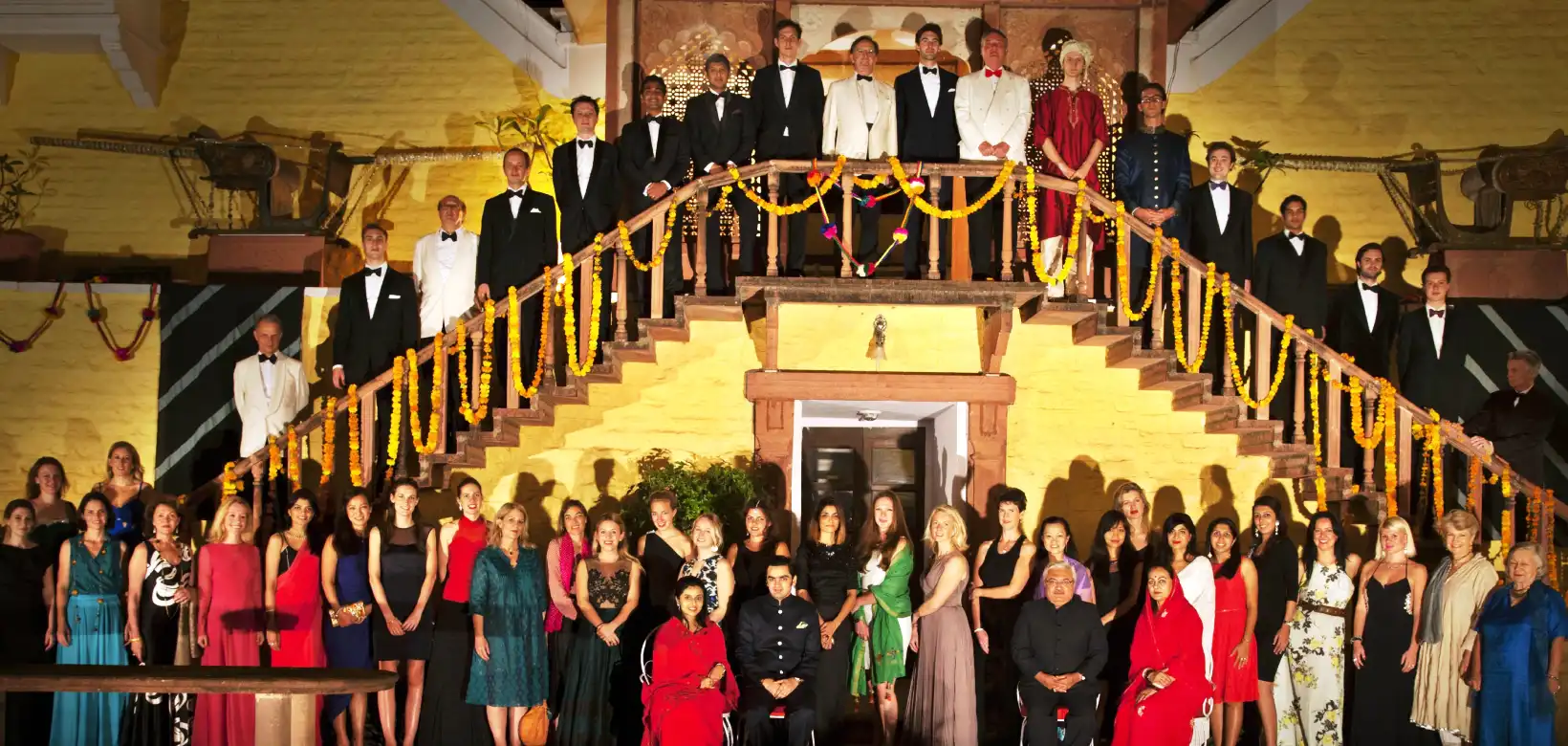 When your romance is the stuff of legend, and your match is made in heaven, your wedding must take place in the closest thing to paradise—Bhanwar Vilas Palace, Karauli!  The modern-day bride and groom are prince and princess of their own slice of heaven and what better way to celebrate their union than a royal destination wedding at a palace in Rajasthan. Udaipur palace weddings and Udaipur wedding venues are becoming all the rage as Rajasthan's magnificent forts and palaces become the royal wedding destination of choice for everyone from movie A-listers to the glitterati. We present one of Rajasthan's most exciting royal palace wedding venues, a hidden gem tucked away amidst the greenery, the perfect palace resort for your nuptials.
Picture this—the wedding party entering from both sides of our sweeping driveway to greet the bride awaiting at the steps of our charming Colonial palace, massive gardens and gazebos all over our 50-acre grounds to ensure that you can actually conduct each of the many events of your dream royal wedding in a different, incredibly charming spot. Pick one of our verdant gardens for your mehendi, our gracious royal dining hall for an elegant sit-down dinner, one of our many courtyards for your sangeet or dance and one of our sprawling terraces for your sundowner or cocktail party! All of this at a highly competitive price point compared to the Udaipur palace wedding cost or the Udaipur royal wedding venue cost!
If you like the effect of the city palace in Udaipur, a royal wedding at Bhanwar Vilas Palace in Karauli offers both the grandeur of a royal palace wedding and the cozy intimacy of a quiet, family wedding! Your guests can be comfortably accommodated in our fifty rooms, ensuring that one of life's most special days is celebrated as it should be, surrounding by family, friends and the people you love at a stunning palace wedding destination in Rajasthan!
One of the best parts of a wedding is stunning photographs to serve as special souvenirs that you can treasure for the rest of your life, and great photography needs a great royal wedding venue! Bhanwar Vilas Palace offers not fabulous spots both for your grand formal portraits (care to pose on a majestic silver chair like a true queen of hearts?) and tons of Instagram-friendly spots for your guests to livestream their presence at the royal wedding of your dreams!
Would you like a fairytale shoot with one of the Palomino Marwari horses from our stables as part of your repertoire of wedding memories? Or would you prefer a dash of retro glamour in one of our vintage cars for that perfect  black and white shot! Your poolside cocktail photos will look even more spectacular with our enormous and very unique 1930s swimming pool as the backdrop!
At Bhanwar Vilas Palace's royal wedding destination you'll be recording memories for eternity far beyond anything at an Udaipur palace wedding or Udaipur wedding resort destination!
For couples who want their nuptials to be solemnized in the backdrop of  traditional Rajput architecture, amidst the glory of beautiful jaalis, towering fort walls and fine paintings, Bhanwar Vilas Palace's associate concern, the Karauli City Palace is merely ten minutes away! For people who want to incorporate the feel of a completely different destination in one wedding package, we offer the option to conduct some events at the stunning 14th century City Palace! Your palace pre-wedding shoot can be rendered even more dramatic with the towering gates of the palace in the background and religious ceremonies and musical events will have an added depth of solemnity conducted amidst the beautiful traditional miniature paintings and detailed stone carvings of the City palace! The incomparable experience of a glorious palace resort wedding or a wedding destination in Udaipur, at a very accessible location. Karauli offers one of the finest palace destination wedding facilities at just three hours from Agra and three hours from Jaipur, along the famed Golden Triangle. Your guests can actually incorporate a tour of the world's most famous monument to everlasting love—the Taj Mahal and continue to Karauli to celebrate YOUR journey of love at the Bhanwar Vilas Palace!
Décor, of course is what makes every royal wedding destination really come to life! At Bhanwar Vilas Palace the existing royal aesthetic will be enhanced for your special day! Our team will work closely with your planners to create the most magnificent setting to get married in, where each flower and each glimmering candle is a testimony to your love. For couples who enjoy the elegance of traditional Indian décor, and the sleek simplicity of an intimate quiet wedding, our team can consult with you for in-house décor options as well. This is a wonderful option for visitors from other countries looking to celebrate their special day with the beauty of traditional Indian rituals. Our in-house team can put together a delightful, intimate and quiet ceremony as per the rituals of your choice, in this wedding destination in Rajasthan! A wedding is definitely the most unique souvenir of a trip to India, especially one held in a stunning palace destination! Incorporate the exhilaration and extravagance of a glorious palace resort wedding or a wedding destination in Udaipur, at an accessible price point.
Traditional Rajasthani delicacies are a widely-beloved culinary choice and ideal for a royal palace wedding. Our kitchen can cater traditional meals for upto a hundred people. We also provide kitchen space and support for outside caterers so you can add an even more elaborate gastronomic flourish to your palace wedding!
With the global situation of the past few years necessitating a wedding venue that is away from crowded cities and in regions with low population density, the secluded charm of our palace destination is ideal for safety and hygiene to ensure a seamless, safe and healthy wedding experience. Our rooms and  public spaces are huge, and well-ventilated and the sheer size and space of our grounds ensure that there is adequate social distancing at all times. After all if you're commencing your married life with a grand palace wedding it should begin with a joyful ceremony in a  royal wedding venue that guarantees the health and safety of you and your loved ones!